É já nos próximos dias 14 e 15 de Março  – adiado para 23 e 24 Maio | covid_19 – que terá lugar mais uma edição do Porto Yoga Festival – a quarta – desta vez sob o tema dos Chakras. 
O Porto Yoga Festival Chakras Edition é um evento de Yoga, destinado a praticantes de todos os níveis (mesmo para aqueles que ainda estão a pensar em começar a praticar!) e onde, para além do Yoga, haverá lugar para a música, sessões de meditação, dança, workshops de alimentação e ayurveda, e onde poderá contar com instrutores nacionais e internacionais e diversas aulas e estilos de yoga.
Eu não vou faltar, quem se junta?
Next 14th and 15th March – postponed to 23 & 24th May | Covid_19 – another edition of Porto Yoga Festival will take place – the 4th edition – and this time under the theme – Chakras.
Porto Yoga Festival Chakras Edition is a Yoga event, open to all practitioners (even those who are still thinking of starting to practice Yoga!) and where, besides Yoga there will be music, meditation sessions, dance, workshops on food and ayurveda, and in the presence of nacional and international instructors, embracing different classes and styles of Yoga.
I will be there! Who will join me?
Porto Yoga Festival Chakras Edition
Porto Yoga Festival Chakras Edition
PT
Serão dois dias dedicados ao mundo do Yoga, onde poderá desconectar-se das suas rotinas diárias e beneficiar de toda a boa energia que um festival de Yoga lhe pode trazer.
Venha daí !
O evento terá lugar na Escola Secundária Augusto Gomes, e se comprar bilhetes online e para os dois dias, terá direito a uma pequena oferta!
at Escola Secundária Augusto Gomes ( Matosinhos)
EN
Two days dedicated to the Yoga world, where you can disconnect from daily life and embrace all the good energies a Yoga festival can bring to your life.
Come and join me!
The venue will take place at Escola Secundária Augusto Gomes, and if you buy tickets online and for the two days, a small gift is included!
Chakras Edition
Mas afinal, o que são os Chakras?
De origem do sânscrito, a palavra Chakra significa "roda de luz".
Neste sentido, eles representam os centros de energia conectados com nosso corpo. Cada Chakra tem uma relação direta com algum órgão do corpo. Existem muitos Chakras, mas sete são os principais.
Os principais Chakras
A principal função dos Chakras é absorver a energia proveniente do sol (prana), alimentar a aura energeticamente  e espiritualmente.
Chacra Básico ou Primeiro Chacra:Este chacra situa-se na coluna vertebral e representa a ligação do ser humano com o planeta Terra. Representado na cor vermelha, este chacra básico quanto mais aberto, melhor está a energia (disposição). O que significa: a nossa capacidade de lidarmos com dinheiro, rumo da vida e realizações de ideais.
Chacra Umbilical ou Segundo Chacra: Este chacra situa-se no baixo-ventre, abrangendo toda a região onde ficam localizados os órgãos genitais. Neste local, a energia é responsável pelos desejos, emoções, prazer, sexualidade, cuidado. Este chacra é representado pela cor laranja, quanto mais aberto, melhor é a nossa capacidade de nos tornarmos seres sensíveis e emocionais. E mostra-nos também que sabemos lidar de forma segura com os sentimentos.
Chacra Plexo Solar ou Terceiro Chacra: É o chacra da autoexpressão, mais relacionado a nossa personalidade. Representado na cor amarela, este chacra mostra a relação da vontade com o poder. Quando há desequilíbrio neste chacra, claramente podemos perceber que a pessoa é invejosa, sofre de complexo de inferioridade. O chacra bem equilibrado e aberto mostra a autoconfiança da pessoa.
Chacra Cardíaco ou Quarto Chacra: É o chacra do coração, responsável pelo amor que sentimos aos outros e a nós mesmos. Também é o chacra da gratidão e generosidade que não se limita apenas ao amor pela outra pessoa, mas pela humanidade toda. Representado na cor verde, este chacra mostra o nosso equilíbrio. E também é responsável por unir todas os chacras, servindo como uma "ponte".
Chacra Laríngeo ou Quinto Chacra: Este chacra situa-se na garganta e representa a comunicação e criatividade. Representado na cor azul clara, quando bem equilibrado mostra a clareza e compreensão da pessoa ao conversar, se mostrando disposta a ouvir e falar. Quando fechado, faz com que a pessoa não consiga se expressar e provoca distúrbios vocais.
 Chacra Frontal ou Sexto Chacra: Conhecido como o chacra do terceiro olho, está ligado a intuição. Representada na cor azul índigo, quando bem equilibrado nos torna mais seguros e conectados.
Chacra Coronário ou Sétimo Chacra: Representado pela flor de lótus na cor violeta, está situado na cabeça e mostra a nossa identificação com um ser maior, ou melhor, um plano espiritual. É este o canal que nos conecta com a meditação e com a energia Reiki. Quando fechado, impacta em doenças nervosas e aberto mostra a nossa espiritualidade.
Como é que os Chakras auxiliam a nossa forma de pensar?
Os chacras representam a nossa vibração, tanto física quanto mental. Quando você não está bem fisicamente ou com dor, o mais provável é que algum chacra esteja fechado. O mesmo ocorre com pensamentos e sentimentos negativos, ao nos sentirmos assim acabamos bloqueando ainda mais os chacras.
* informação retirada deste site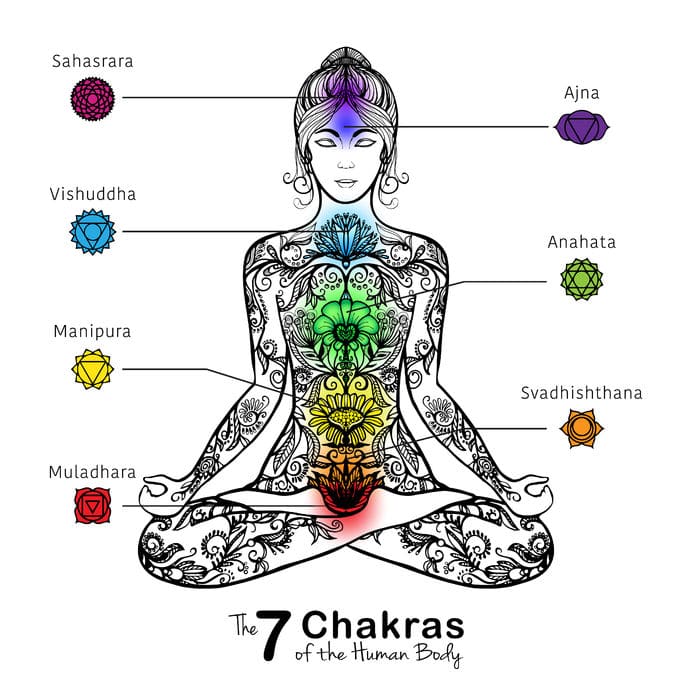 PT
Vemo-nos este ano, na Edição 2020
Porto Yoga Festival Chakras Edition?
EN
Will we this year, edition 2020
Porto Yoga Festival Chakras Edition?
Porto Yoga Festival – Chakras Edition
23 & 24 May 2020
Escola Secundária Augusto Gomes
Rua Augusto Gomes
4454 – 503 Matosinhos
www.portoyogafestival.pt
Metro – Câmara de Matosinhos
Line A
Bus:
505, 506,507, 61
Bike Parking inside the venue
Free Car Parking in the area
PT
Veja outros eventos ou acontecimentos relacionados com yoga neste blog em Lifestyle & People – Yoga
EN
See other events or happenings regarding Yoga on this blog under Lifestyle & People – Yoga